Visit the Coeur d'Alene Resort Food & Wine Festival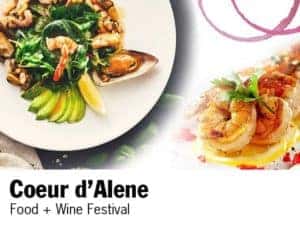 Coeur d'Alene Resort Food & Wine Festival
If you are looking for some fun in the Spokane area, be sure to put the Coeur d'Alene Resort Food & Wine Festival on your calendar. This is the first year for this grand event, and it promises to be both unforgettable and delicious.
The festival will be held on April 6th and 7th at the resort. It will feature wine tasting seminars, cooking classes, luncheons with hand-selected wine pairings, and chef dinners. The grand finale of the event will be a Lakeside Dinner Experience at the Hagadone Event Center.
You can choose which spectacular events you want to attend and purchase individual tickets. Some events have already sold out, so get your tickets as soon as you can so you don't miss out. There are currently still tickets available for a Champagne Brunch by Treveri, a variety of cooking demonstrations, a Barrister Winemaker Lunch, a wine tasting lunch, and the Lakeside Dinner Experience.
If you just want to experience it all, you can purchase an All-Access Festival Pass for only $249 per person. With these tickets, you can potentially save over $100. The festival celebrates regionally-renowned chefs and award-winning wine makers, including Cinder Winery, Treveri Cellars, Townshend Cellar, Maryhill Winery Spokane, and others.
If you would like to arrive at the Coeur d'Alene Resort Food & Wine Festival in style, then be sure to visit Porsche Spokane to explore our wide array of Porsche vehicles.