Spring Break Getaways Near Spokane, WA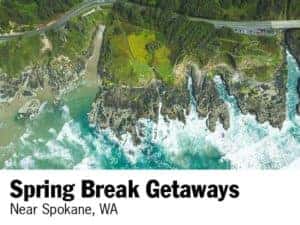 Do you need an impromptu vacation destination near Spokane, WA? We at Porsche of Spokane have got you covered. All of these awesome spring break getaways are within a day's drive, so it shouldn't take you too long to get there and have an awesome week enjoying the spring air.
Go Whale-Watching in Oregon
Spring is the time of year when all the migrating whales make their way home. You can head to the Oregon Coast – we recommend DePoe Bay – to catch a glimpse of the 20,000 whales that migrate to Alaska past Oregon annually.
Head to Canada for the Butchart Gardens
Want to get out of the country? Cross the Canadian border and head up to Victoria, B.C. to treat yourself at the Butchart Gardens. Stunning, unique landscaping and flowers await you.
Check Out Waterfalls Near Seattle
Just west of Seattle, you'll find 26 natural waterfalls along the Olympic Peninsula Waterfall Trail. Spring is the best time to see them, as the rainy season keeps the falls going full force.
…Or In Portland
Portland has its fair share of waterfalls, too. Just a half hour away from the city is the iconic and reputable Multnomah Falls.
Walk Along the Tacoma Coast
The dunes of Puget Sound Beach are linked to a 3-mile trail loop circling Chambers Creek. There are plenty of local beachside restaurants to eat at this spring break getaway.
The perfect vehicle to reach your ideal spring break location? Why, a Porsche of course, and one is waiting for you right here at Porsche Spokane.