Porsche 718 Boxster vs. Porsche 718 Cayman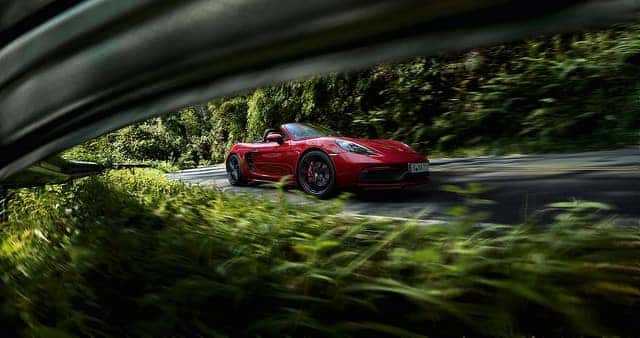 Porsche's 718 two-seater comes in two configurations – the Boxster and the Cayman model. At first glance, these two models don't seem to have much of a difference between them, which can make choosing one more difficult for buyers. But, upon closer inspection, you are likely to find plenty of stark differences. In the end, both the 718 Boxster and 718 Cayman are upscale, sporty, great cars, and which one the buyer chooses comes down solely to personal preference. Let's compare the two so you can make a more informed decision.
Performance
Both the Boxster and Cayman models come with 2.0-liter turbocharged boxer engines that can be mated to a six-speed manual or a seven-speed automatic transmission, churning out 300 horsepower and 280 lb-ft of torque. Both also offer 350-horsepower 2.5-liter engines as upgrades on the next available trim. Because there's no difference between the powertrains, both models are equally fun to drive.
Design
Most of the differences in the Boxster and Cayman models can be found in their exterior design. The Boxster is a soft-top convertible model, while the Cayman is a hardtop model. This can be a factor for drivers who are thinking about things like aerodynamics or leisure; for those who prefer to have a leisure vehicle on hand for sunny days, nights out on the town, and vacations, the Boxster may be a better option, while drivers who want a quiet, warm interior and less wind drag may want to opt for the Cayman.
Price
There is only a small difference in the cost of the 718 Boxster as opposed to the 718 Cayman. The starting MSRP of the Porsche 718 Cayman is $53,900, while the 718 Boxster has a somewhat higher price tag of $56,000. That's a $2,100 price difference, but for drivers who are trying to decide between the two, determining the value of what they are looking for may factor into their final decision.
To learn more about both of these 718 models, be sure to visit Porsche of Spokane.