2020 Porsche Cayenne Coupe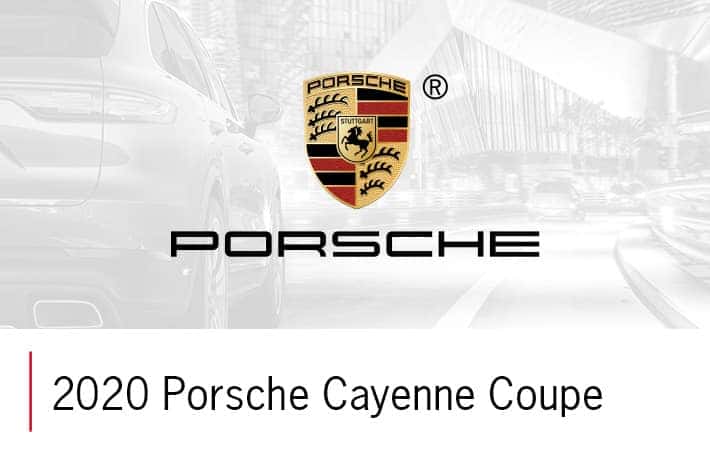 The Porsche Cayenne has been a popular pick among Porsche buyers thanks to its luxurious design, top-notch performance, and family-friendly cabin space. The first-ever Porsche SUV when it was launched in 2002, American buyers love the Cayenne nameplate. Now, Porsche has followed up by adding another model to the lineup – the upcoming 2020 Porsche Cayenne Coupe.
Sleek Looks
Unlike its name, the Cayenne Coupe will still be a four-door model. It sports a more athletic appearance than its predecessor, featuring a low roofline and two spoilers. Its standard roof is fixed panoramic glass with the option of an available carbon fiber roof. Drivers can nab more stylish features through the Porsche Cayenne Coupe's three available sports packages.
Packages
While we don't know much yet about all the features that will be offered in the Cayenne Coupe's three sports packages, we know of a few options. Aside from the aforementioned carbon fiber roof, drivers can also opt for 22-inch GT Design wheels with reduced weight, Alcantara leather and carbon fiber accents in the cabin, and fabric seat centers.
Powerful Performance
The standard Porsche Cayenne comes with a 3.0-liter turbocharged V6, which delivers 336 horsepower and 332 lb-ft of torque. This same engine is carried over to the new Cayenne Coupe. Drivers can also select the optional 4.0-liter twin-turbocharged V8 that's been rated at 541 horsepower and 567 lb-ft of torque. This V8 can apparently propel the Porsche Cayenne Coupe from 0-60 mph in as little as 3.7 seconds.
Interior Options
The Porsche Cayenne Coupe also offers drivers luxurious comfort options in the interior like standard eight-way power seats, optional 14-way ventilated seats with a massage function, or the range-topping 18-way power seats. Drivers can also opt for two rear seats instead of the three-passenger bench, which reduces weight and helps with the Cayenne Coupe's center of gravity for better performance.
Test-drive the Cayenne Coupe when it arrives on our lot at Porsche of Spokane later this year.