2019 Porsche Macan Performance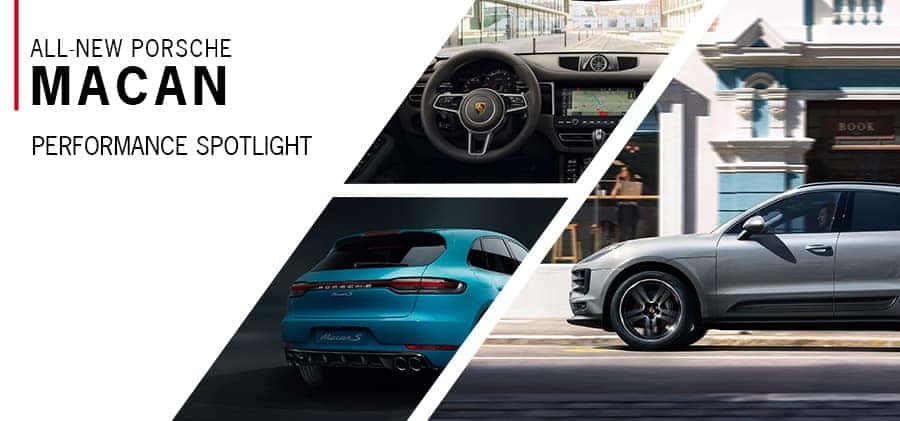 When it comes to power, there are few compact luxury SUVs that do it better than the 2019 Porsche Macan . With its athletic handling, powerful powertrain options, and refined ride, the 2019 Macan model is a solid option in its segment. Here, we take a look at the performance of the Macan, including its engine options and other performance features.
Porsche Macan Power
When you opt for the 2019 Porsche Macan , you will automatically receive a 2.0-liter turbocharged four-cylinder engine under the hood. Though it's the smaller engine of the two available options, it's by no means weak. This zippy four-cylinder generates 248 horsepower and 273 lb-ft of torque, making it easy to get around town.
This 2.0-liter engine has a zero-to-60 time of 6.3 seconds, a number reduced to 6.1 seconds when the Macan comes equipped with the Sport Chrono Package. With this setup, you will find that this luxury crossover can hit 141 mph for its top track speed.
Porsche Macan S Power
Under the hood of the Macan S model, you will find a 3.0-liter turbocharged V6 engine. This engine is the same one that provides power for the larger Porsche Cayenne. It produces 348 horsepower and 352 lb-ft of torque, while getting a zero-to-60 time of 5.1 seconds. If you opt for the Sport Chrono Package, the Macan can go from zero to 60 mph in just 4.9 seconds. This engine gives the luxury crossover a top track speed of 157 mph.
Performance Features
No matter the powertrain you end up with, the Macan will come with a seven-speed dual-clutch automatic transmission and a front-engine setup. You will also find that this high-end compact SUV has a double-wishbone suspension, providing you with a refined ride, along with all-wheel drive. This means your driving experience will be one-of-a-kind when you're behind the wheel of the 2019 Porsche Macan.
You can experience the power of the Porsche Macan for yourself with a test drive at Porsche of Spokane.