Porsche of Spokane Model Overview: 2019 Porsche 718 Boxster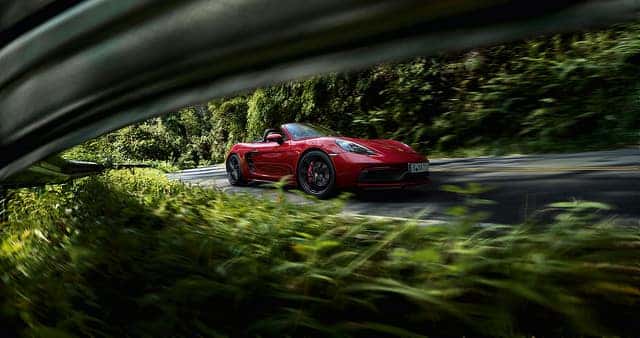 German auto manufacturer Porsche makes cars known for their sleek features and nimble, powerful performance capabilities. The name is synonymous with grace, modern design, and style. That's the way it's been ever since its inception. Porsche's newest offering, debuting soon, is the 2019 718 Boxster. This will be the most exclusive variant of the mid-engine Boxster convertible, as it is now updated to fit within the 718 lineup.
Powertrain & Performance
No specifics are out yet as to the specs of the engine, but rumors are pointing in a clear direction. Recently, Porsche made the switch from naturally aspirated flat-six engines to turbocharged flat-fours. With the car being built by August Achtleiner, who notably prefers six cylinder engines, rumors have been circulating about a potential switch back to six cylinders mounted designs for the 718 Boxster. Along with the excitement the switch would bring amongst Porsche fans pining for the older days, the six cylinder engine would bring along 400 horsepower and make the car highly desirable for both casual admirers and collectors alike.
Interior
The 2019 718 Boxster will feature improved amenities for both comfort and racing. A flat-bottomed sports steering wheel will maximize the driver's handling and control, further developing the relationship between driver and car. Full leather interiors will be an option, along with a standard cloth choice. Since the car is racing-inspired, the interior will be somewhat stripped down, as all unnecessary frills will be removed in order to create a harmonious, uncut bond between car and driver.
Style
No car has an aura of control and style quite like a Porsche, and the 2019 718 Boxster offers some such charisma. Beautiful curves form a low profile and brake lights outfitted with 3D LED technology give the effect that this is not just a car you are driving; it is a technological opus.
Here at Porsche of Spokane, we'll be sure to share more about this highly-anticipated model.